Regular price
$21.95
Sale price
$19.95
Unit price
per
Sale
Sold out
Product Code:
Share
View full details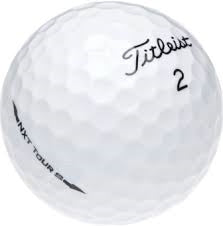 Titleist NXT Tour S Used Golf Balls
Titleist NXT Tour S Used Golf Balls - The exceptional NXT Tour.
-100% Satisfaction Guaranteed
-Usually ships within 24 hours
-Delivered to your door in days -Superior quality golf balls at up to half the cost of new
 The Titleist NXT Tour S golf balls are designed for a wide range of golfers seeking long distance with outstanding feel and control. The Titleist NXT Tour S golf ball provides average and highly skilled golfers with long distance off the driver, improved control with long irons and exceptional greenside performance. Spherically tiled 302 octahedral dimple design with 4 axis of symmetry, soft, thin Fusablend cover, and proprietary soft compression, highly resilient core.
Our 'AAA' (high grade) golf balls are shiny, high white balls in perfect to near perfect condition. They have the look and feel of new golf balls. Scuffs of any kind are not included in this grade. Golf balls may have logos or small, standard personal marks.
Our 'AA' (mid grade) golf balls may have a small scuff mark or a little more magic marker than would the 'AAA' golf balls, but no club marks, bubbling clear coat or cuts. These balls are all perfectly fine for play, but the shine or general appearance is down a bit. A great mix of average condition golf balls that have been played for a few holes.

1 Dz, 50 Ct, 100 Ct, or 400 Bulk.
Choose Grade & Quantity below.
400 Bulk options are not qualified for our flat rate shipping, bulk shipping rates are calculated at checkout.